Recipes
Better-for-You Brownies Made With Green Kale & Apples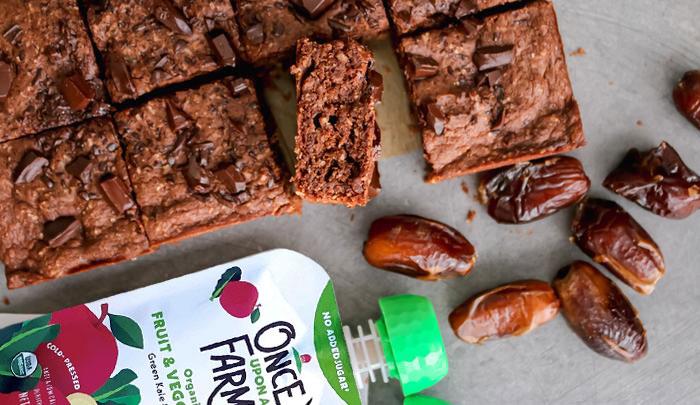 Healthy hacks for tasty treats make them even sweeter in our opinion. Today we're sharing a super yummy brownie recipe from our brand ambassador, baker and author, Hetal Vasavada (@milkandcardamom on Instagram). She uses our Green Kale & Apples farm fresh baby food blend as an egg substitute, adding in some extra nutrition and good fat with kale, apple, banana and hemp seed! Mix up this recipes with your little ones and let us know what you think in the comments below! We hope you enjoy!
Healthy Brownies Made With Love (and Green Kale and Apples!)
Ingredients:
12 Medjool dates (pitted)
3/4 Cup plus 1 Tbsp. all purpose flour
3 1/2 Tbsp. coconut flour or unsweetened finely shredded coconut
2 Tsp. baking powder
1/4 Tsp. salt
1/3 Cup unsalted butter, melted
5 Tbsp. plain Greek yogurt
3 Tbsp. unsweetened cocoa powder mixed with 4 Tbsp. hot water
6 Tbsp. unsweetened coconut milk
1 Pouch Once Upon a Farm,

 

Green Kale & Apples
1/2 Cup roasted pecans, chopped
2 oz. dark chocolate, chopped
Instructions:
Pre-heat oven to 325°F. Grease and line a 8×8-inch baking pan.
Soak the Medjool dates in hot water for 10 minutes. Drain and blend into a puree. Set aside.
In a small bowl, whisk together all-purpose flour, coconut flour, baking powder, and salt.
In a separate bowl, whisk together melted butter, yogurt and date puree until well combined. Then add cocoa mixture, coconut milk and Once Upon a Farm,

 

Green Kale & Apples. Whisk for 30 seconds.
Fold in dry ingredients and chopped pecans until just combined.
Spoon the batter into the prepared baking pan and smooth into an even layer. Sprinkle the top with chopped chocolate. Bake for 20 to 25 minutes and cool for 10 minutes before enjoying!