Recipes
Mama Bear Blueberry Breakfast Bars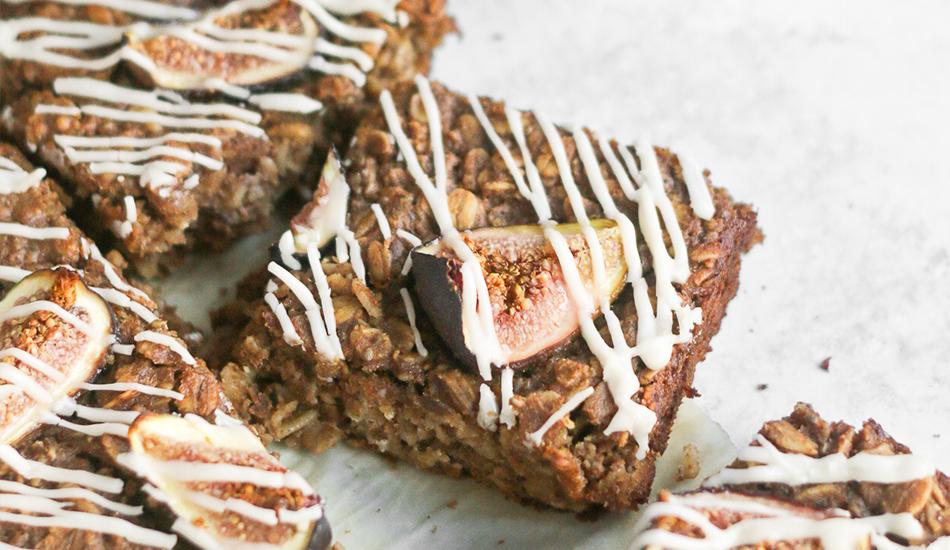 As parents, we're always trying to make busy mornings better. Having breakfast ready ahead of time can be a big time-saver before work or school!
Mama Bear Blueberry Breakfast Bars are a quick, yummy, make-ahead breakfast! 
They're kid-friendly, perfect for meal-prep, and can be served warm or cold! Thanks to our mama ambassador @milkandcardamom for the delicious recipe.
 Ingredients:
1/3 cup (90 g) almond butter or nut butter of choice
2 tbsp date syrup or maple syrup
1 teaspoon vanilla extract
½ cup milk of choice
2 cups (190 g) rolled oats
1 tbsp chia seeds
1 tbsp flax meal
½ tsp salt
1 tsp cinnamon
1 tsp cardamom
1/2 tsp baking powder
1 cup of figs
Icing (optional):
1/2 cup powdered sugar
1-2 tsp maple syrupInstructions:
Directions:
Preheat the oven to 375F and line an 8×8-inch baking pan with parchment paper.
In a large mixing bowl, whisk together almond butter, date syrup, vanilla. milk, and

 

Once Upon a Farm Mama Blueberry pouches

 

until smooth. Add rolled oats, chia seeds, flax meal, cinnamon, cardamom, salt, and baking powder. Mix until well combined.
Pour the mixture into the prepared baking pan and spread into an even layer. Top with figs and bake for 25-30- minutes or until the edges of the oatmeal have browned. Cool completely in the pan.
To make the icing, mix the powdered sugar and maple syrup together until you have a smooth icing. Drizzle the icing on top of the cooled baked oatmeal and let it set for 10 minutes. Once the bars are set, cut them into squares then store them in an airtight container for up to 1 week. You can warm the bars up or eat them cold.
Enjoy!