Recipes
Homemade Fruit Leathers Your Little Ones Will Love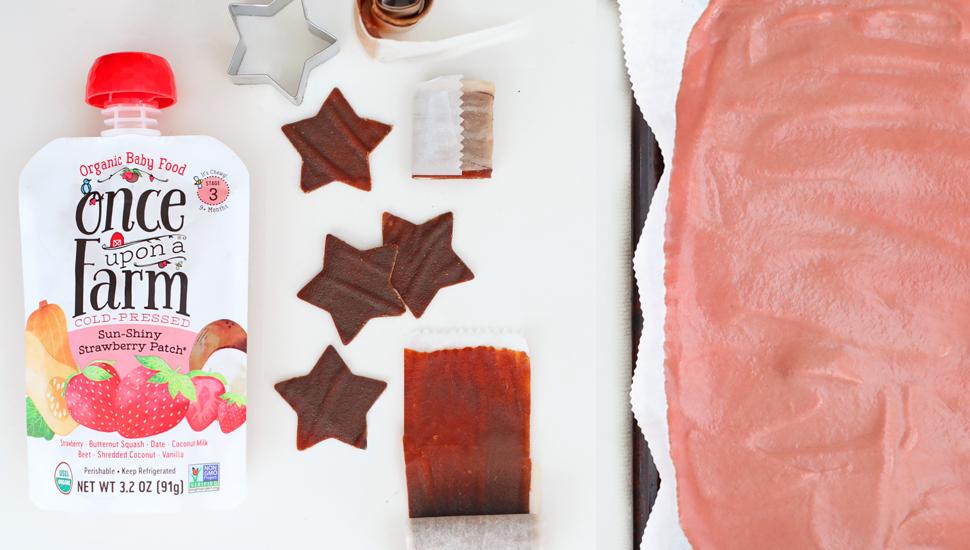 A fruit leather is a fun, easy, and nutritious treat! All you need is your favorite Once Upon a Farm blend, parchment paper, and a sheet pan.
Watch our co-founder and mama of 3, Cassandra Curtis, make this recipe in her San Diego home kitchen.
Quick, Easy, and Nutritious Fruit and Veggie Leather Snacks!
Step by step instructions:
Preheat your over to 170 degrees (150 degrees if your oven will go that low).
Grab 4 pouches of Once Upon a Farm. We suggest using

 

Sun-Shiny Strawberry Patch,

 

Magic Velvet Mango, or

 

Green Kale & Apples. Next, prepare a sheet pan with a piece of parchment paper.
Squeeze the 4 pouches onto the parchment paper. Use a soft spatula or knife to evenly spread your Once Upon a Farm blend into a layer that is about 1/2″ to 1/4 inch thick.
Bake for about 6 hours until the fruit leather is tacky and dried out. Remove from the oven and let your fruit leather cool completely*.
Now the fun part begins! Cut your fruit leather into strips using scissors and roll-up. If you prefer shapes, use a cookie cutter, and firmly press into the fruit leather to make shapes, we tried stars and hearts!

Your finished treat can be stored in an airtight container on the counter for up to a week. You'll have an easy, grab-and-go snack for lunchboxes, after school, or when you're in the mood for something sweet, with no added sugar. Enjoy!

If you try this recipe comment below and let us know what you think.
*Note: Sometimes cracks form when the fruit leathers dry out (that's normal, especially in areas that are thin). When your treat is nearly cool, just press the pieces together where cracks are present.