Education
Entrepreneur Ally Program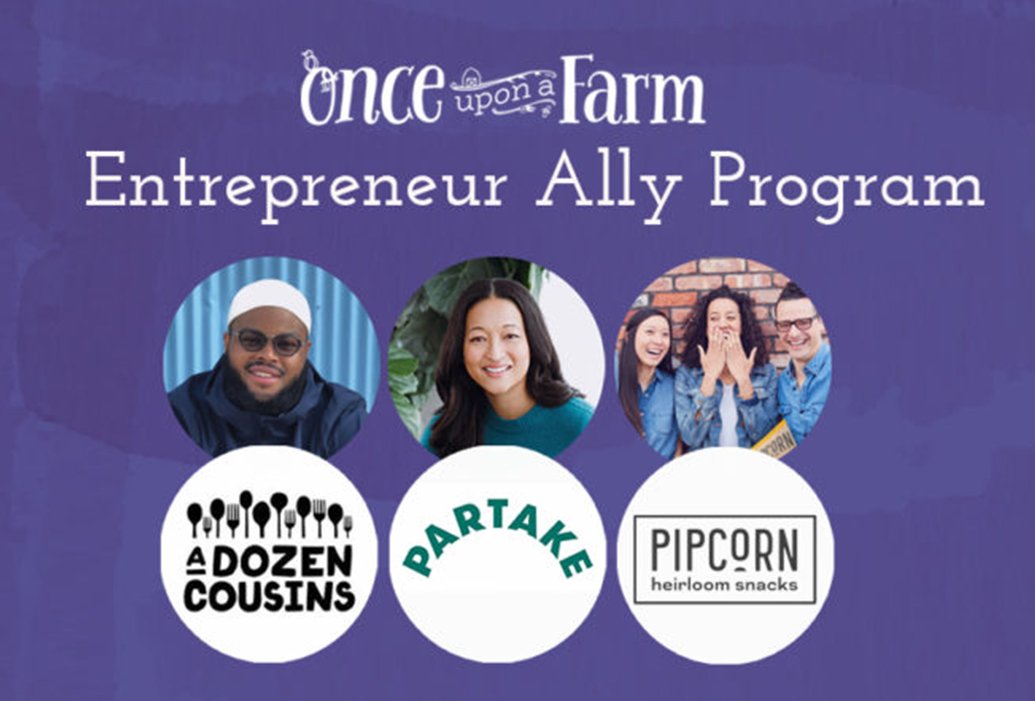 As part of our continued commitment to drive meaningful change to end social injustice and inequality, Once Upon a Farm is thrilled to announce our Entrepreneur Ally Program. As a small business that still remembers the days of being a start-up, we wanted to make an impact by assisting BIPOC entrepreneurs in the food and beverage space, removing some of the typical burdens many new business owners encounter so that they may focus on the creativity and innovation of their core business.

Over the next 12+ months, we will be working closely with three amazing minority-owned companies to help them tackle the challenges they are facing while also sharing success fueling best practices needed to hit key company milestones.
Each company, based on business scaling needs, will have:
A dedicated go-to advice group

Quarterly benchmark touch base meetings

Access to business resources provided by Once Upon a Farm
We're excited to be working with A Dozen Cousins, Partake Foods and Pipcorn — and growing and learning from each other while celebrating wins along the way. Read more about each brand and its founders below — we know you'll love them as much as we do!

With Love & Gratitude,
Once Upon a Farm
===
A Dozen Cousins

A Dozen Cousins is a natural food brand that makes convenient side dishes inspired by traditional Creole, Caribbean and Latin American foods. Their first product is a line of authentic regional beans that are seasoned with real vegetables and spices and cooked with nutrient-dense avocado oil. The brand is named after the founder's daughter and her 11 cousins.For more information visit www.adozencousins.com and follow them on Instagram. 

Meet the founder Ibraheem Basir
Growing up in Brooklyn, his kitchen was a melting pot of his mother's Southern cooking and the recipes that she picked up from their Caribbean and Latin American neighbors. After spending years working in the natural food industry, he started A Dozen Cousins so that he could share some of his family's favorite dishes using authentic recipes and real wholesome ingredients.
Partake Foods
Partake Foods
is a line of allergy-friendly snacks inspired by founder Denise Woodward's daughter's experience with food allergies. The company offers a selection of delicious, allergy-friendly cookies in healthy yet indulgent flavors such as Birthday Cake, Double Chocolate Chip and more. All products are free of the top 8 allergens (wheat, tree nuts, peanuts, milk, eggs, soy, fish, and shellfish) and gluten. The products are full of love, healthy ingredients, and flavor that everyone will enjoy, not just those with dietary restrictions. For more information visit
www.partakefoods.com
and follow them on
Instagram
and
Facebook
.
Meet the founder Denise Woodward
Prior to launching Partake, Founder/CEO Denise Woodward spent a decade in consumer packaged goods at various Fortune 100 companies. Most recently, she held the title of Director, National Sales in Coca-Cola's Venturing & Emerging Brands division. Denise holds a Bachelor of Arts from the University of North Carolina, Chapel Hill, and an MBA from Arizona State University. She lives in Jersey City, NJ with her husband, Jeremy, and their 5-year-old daughter, Vivienne.
Pipcorn
Pipcorn is an heirloom snack food company restocking the modern pantry with better for everyone snacks. Using their special heirloom corn, Pipcorn recreates your favorite childhood snacks with sustainable and clean ingredients. Founded by Jeff, Jen, and Teresa a family trio who are on a mission to redefine what better for you means, to go beyond the ingredients and include better for the whole family, our shared communities, and the planet. For more information visit www.pipsnacks.con and follow them on Instagram and Facebook. 

Meet the founders Teresa Tsou, Jeff Martin and Jen Martin
Prior to co-founding Pipcorn, Teresa Tsou had seven years of experience in the consumer products and retail space including her position as Vice President at Marvin Traub Associates, a global strategy and investment firm focused in the retail and consumer products sectors. In addition, she worked at Morgan Stanley and UBS where she advised various CPG companies on M&A and debt and equity financings. Teresa holds a B.B.A with honors from the University of Michigan, Ross School of Business. Teresa is incredibly grateful to have a growing family business but also a growing family and loves being a mom to Elliott (3) and Grey (2 weeks old!).
Jeff loves puzzles. So much, in fact, that he used to break everything in the house just to figure out how things worked. Little did he know, the skills he learned breaking toasters would stick with him. Years later, Jeff is constantly trying to figure out the best way to make things work. As a born problem-solver, he is able to act quickly and make decisions by focusing on the end goal and the most efficient way to get there. Prior to co-founding Pipcorn, Jeff got his start after college working in the Global Consumer Products & Retail group at UBS Investment Bank followed by a short stint at a technology startup.

Prior to starting Pipcorn Jen founded a successful fresh-pressed juice business in college while pursuing her degree in social work, years before the juicing craze caught on. Since then Jen has continued to use her love of people, her deep understanding of marketing, and her belief in food as medicine to guide her path. She is on the founding team of Queer Soup Night, an organization that highlights queer chefs and raises money to supports grassroots organizations in hopes to strengthen local communities across the country. She has been featured as one of Essences 50 Women to Watch as well as Forbes 30 under 30.